Open-E DSS v7
FREE Open-E Data Storage Software V7 Small Office Home Office (SOHO)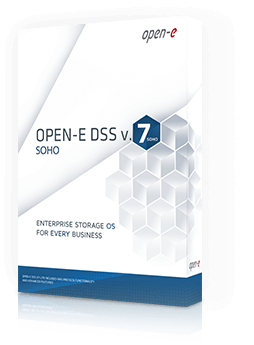 All great features for 
FREE

:
Free software
NFS, SMB/CIFS, FTP, AFP (NAS)
iSCSI (SAN)
NIC Teaming/Bonding
Software RAID
Up to 4 Network Cards (max. 1Gbe)

4TB FREE

 initial storage capacity
Additional storage extensions up to 36TB
at affordable prices
Optional Single Case Basic Support
Storage solutions for small businesses
Open-E Data Storage Software V7 SOHO (Small Office Home Office) is a free version of Open-E DSS V7, previously known as Open-E DSS V7 Lite. With SOHO, you can take advantage of basic functionalities of our fully featured NAS / SAN software platform, now with a doubled capacity of 4TB free of charge. Download Open-E DSS V7 SOHO directly from our website today!
Easy and affordable storage capacity extension
Data storage requirements are growing fast these days. This is why the storage capacity of Open-E DSS V7 SOHO can be increased easily thanks to cost-effective storage extensions of 4, 8, 16 or 32TB. This way, you can benefit from the scalability of the product and use the software with a size of up to 36TB. Extension prices start from 5,00 EUR / USD.
Affordable technical support
In case you require any help while using Open-E DSS V7 SOHO, our Support Team is at the ready for you. With our special Single Case Basic Support you will receive e-mail assistance for technical issues with your Open-E DSS V7 SOHO product.
Additional storage extensions for 
FREE
Get 8TB FREE additional storage by inviting your friends to try Open-E DSS V7.
Get 8TB FREE by filling out a short survey, answering a few simple questions and uploading a picture of your server.