Scale-out SDS for Cloud Native Applications
NexentaEdge provides scale-out Block, File and Object (S3 & Swift) storage services delivering cluster-wide inline deduplication and compression at chunk level to deliver enterprise grade data integrity. Quick Erasure Coding and shared namespace between NFS and object data provide best in class performance with low touch operating model.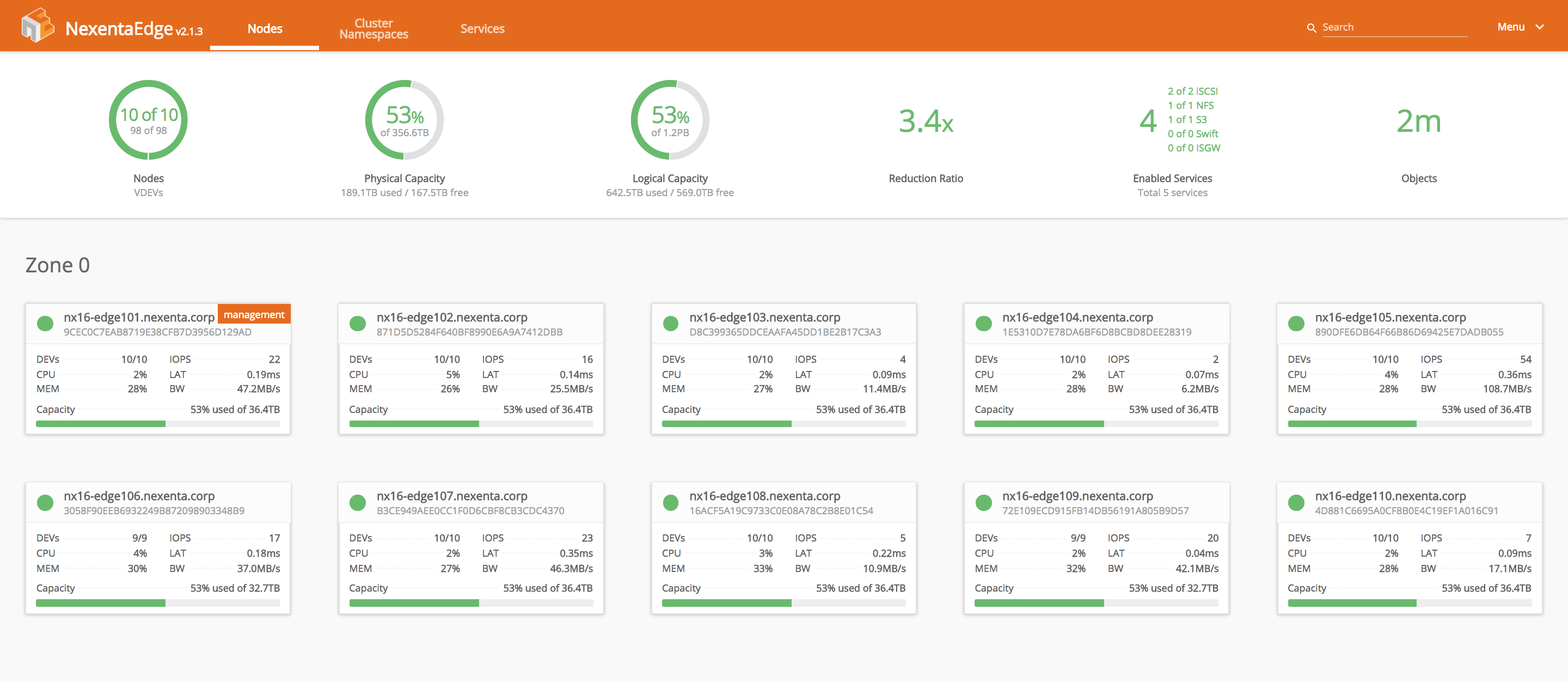 NexentaEdge Differentiation
Enterprise Grade Data Integrity

Strong cryptographic checksums and patented Cloud Copy-On-Write technology guarantee data integrity and provide self-healing capabilities across all failure domains in a cluster

Inline Data Reduction

World class data reduction technology with cluster-wide inline deduplication and compression at chunk level

Unlimited Point in Time Copies

Cloud Copy-On-Write technology provide an unlimited number of Snapshots, Clones and Object versions without any impact on performance

High Performance Erasure Coding

NexentaEdge Quick Erasure Coding was designed specifically to eliminate the performance penalty of erasure coding and enable high throughput workloads on encoded data

Low Cost Operation Model

Self-balancing cluster that store data for the best performance, and automatically routes data flows around hot spots and failed components

Built for Containers

NexentaEdge deploys using application container technology to make it easy to install, manage, and integrate directly into your cloud environments.
Use cases
High Performance Object Storage

Providing Petabyte-scale fast object storage with S3 and SWIFT API support. Easy to scale as your data sets grow, and cost effective over time with built-in data deduplication, compression and Quick Erasure Coding.

Made for Analytics and Big Data storage

Highly scalable Object and NFS storage built with throughput requirements of analytics platforms in mind. Integrates into a wide range of Analytics platforms with S3a and NFS support and provides an ideal location for storage of your analytic datasets with the ability to version datasets natively.

File and Object for Cloud Native Applications

All-flash Block and File storage for Next Generation Compute Platforms with direct integration into the native ecosystems of OpenStack, Docker and Kubernetes. Copy-On-Write and no-cost Deduplication serve as the base for a high performance & cost-effective storage platform for Cloud Native Applications

Petabyte Scale, Low Cost, Cold-Archive

Integrate with standard off the shelf backup solutions using S3 to provide a scale-out, low-cost backup tier for long term storage of backup data. Easy to grow incrementally by adding storage capacity, and secure for long term storage with guaranteed data integrity.